Solar Street Lights

Installation of Solar Street Lights
---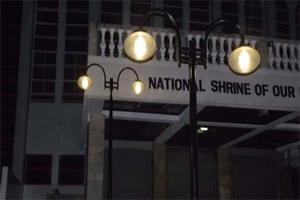 Solar Street Lights are raised light sources which are powered by photovoltaic panels generally mounted on the lighting structure or integrated in the pole itself. The photovoltaic panels charge a rechargeable battery, which powers a fluorescent or LED lamp during the night.
Most solar panels turn on and turn off automatically by sensing outdoor light using a light source.Solar streetlights are designed to work throughout the night. Latest designs use wireless technology and fuzzy control theory for battery management. The street lights using this technology can operate as a network with each light having the capability of performing on or off the network.
Our Mission
We strongly adhere towards adaptability, integrity, and quality service.

Adaptability — Breaking new ground in the business world by providing innovative solutions to attune our consumers need with everyday demands.

Integrity — As we are in strict adherence to incorruptible code of values that will keep every cent you entrust to us.

Quality Service — In making everything work together to deliver our promise to you.